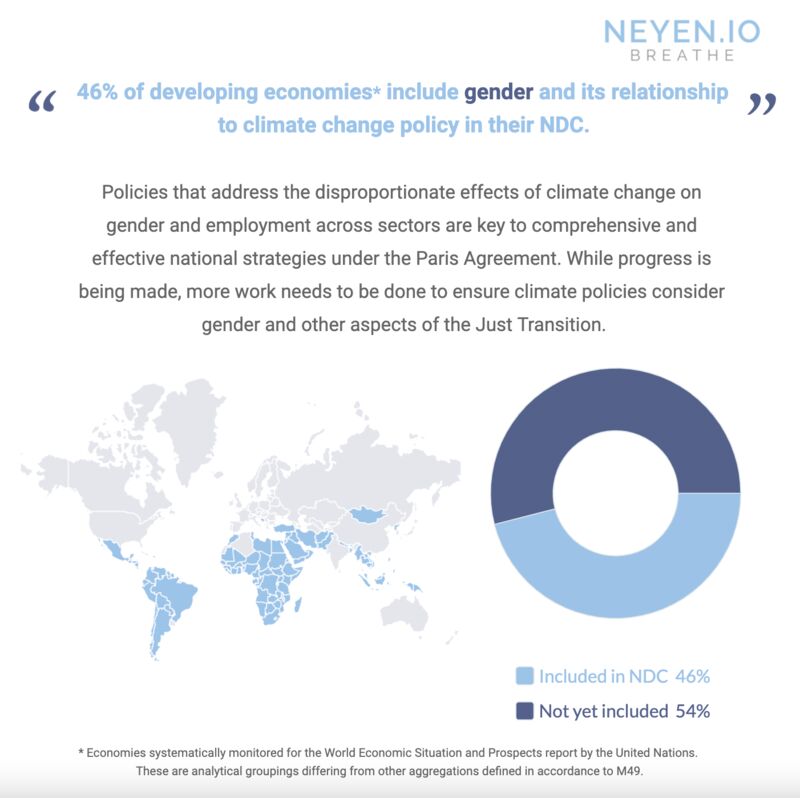 Women and Gender were key discussion topics at COP 26, and analysts have reflected on the bold progress of acknowledging the impacts of climate change on women and overall improvements in addressing gender equality.

Industries and sectors with a large female workforce, such as agriculture, textiles, electronics, and fisheries have significant greenhouse gas footprints and are likely to be targeted by policies that aim to reduce emissions at national scales. Therefore, comprehensive climate action and smart policies are required to ensure a Just Transition for these workers and other vulnerable populations.

However, work is still needed.

Currently, 46% of developing economies, as identified by Neyen analysis, have included the overarching theme of gender in their NDC. Based on our research and experience, policy actions that are mindful and inclusive of gender are more likely to succeed, as they will be effective longer and consider their impacts on the people and sectors they will operate in.

Jeremy Buhain, Consultant at Neyen, added some thoughts on gender developments at COP26 and beyond:

"Women have historically been underrepresented in workforces around the world. If governments are to abide by the concept of a Just Transition, they must ensure that women will no longer be left behind by empowering them and building their capacity to meaningfully participate in the emerging low-carbon economies, while addressing carbon-intensive sectors that currently highly employ women."

Neyen supports governments, organizations, and development institutions in developing policies that consider the Just Transition. We invite these stakeholders to get in touch with us to discuss how to best achieve comprehensive climate policies and analyses.